How to delete a network
You can delete a network via:
Fing Web application
Fing Mobile App
Delete a Network - Via Mobile app
To delete a network from the Fing mobile App, please follow these steps:
Sign in to Fing App
From the 'Home' tab, click on the 'burger' icon (beside 'Scan for devices'_
This will take you through to the Scanned Networks screen which contains a list of previously scanned networks
Hold your finger on the Network you would like to delete
Once you click 'Delete', the network is now removed.
Delete a network - Via Web App
To delete the network from the Fing web app:
Sign in to the web app: (https://app.fing.com/)
On the top left hand side of the display, you will see a list of networks previously scanned:

Click on the Network you want to delete, and then, on the top right corner click on the Settings. You will then see a list of options.

Click on the Delete this Network and then confirm Delete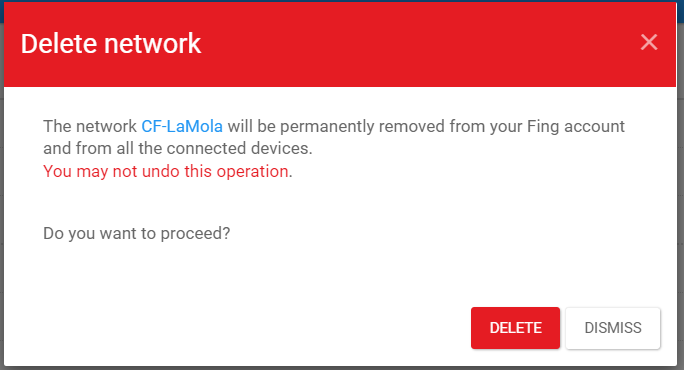 Go to Account Settings on Fing mobile app, then go to Account Storage and then click the icon to Synchronize.
Still experiencing issues?
Please include all details related to your issue and write to us from your registered email address at support@fing.com