ISP Comparison - Desktop Tool
Starting from Fing Desktop 3.0.0 we've added a new tool that helps you compare between the different Internet Service Providers operating in your area, a cool feature made possible by leveraging highly detailed data gathered from our lively community and widespread, tirelessly working probes.
Fing has always been there to give you the real performance of your ISP in your area, but now we've doubled that! Just choose a pair of ISPs and start comparing them right now, to the slightest, smallest detail and discover what's good or not and who's the better choice for you.
Where
Fire up your Fing Desktop app and select Tools on the left sidebar. You should see a new page with a large collection of tools: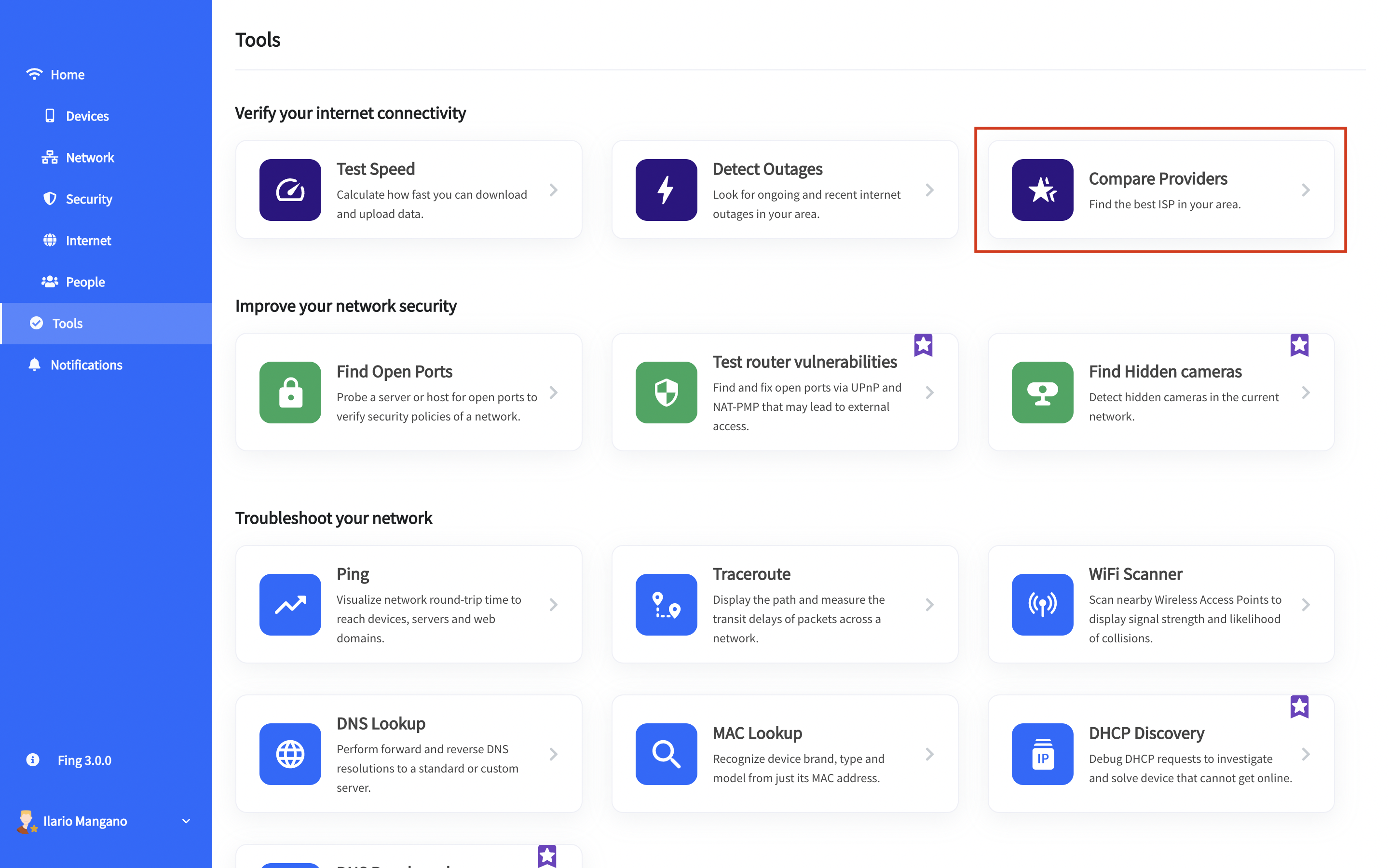 Now click on the Compare Providers card, the rightmost one on the upper section.
If you want to know more about what tools are supported and how they can improve your networking life, don't waste any more time and go to the Fing Desktop Tools Introduction page on this guide.
How
This is what you should find in front of you now: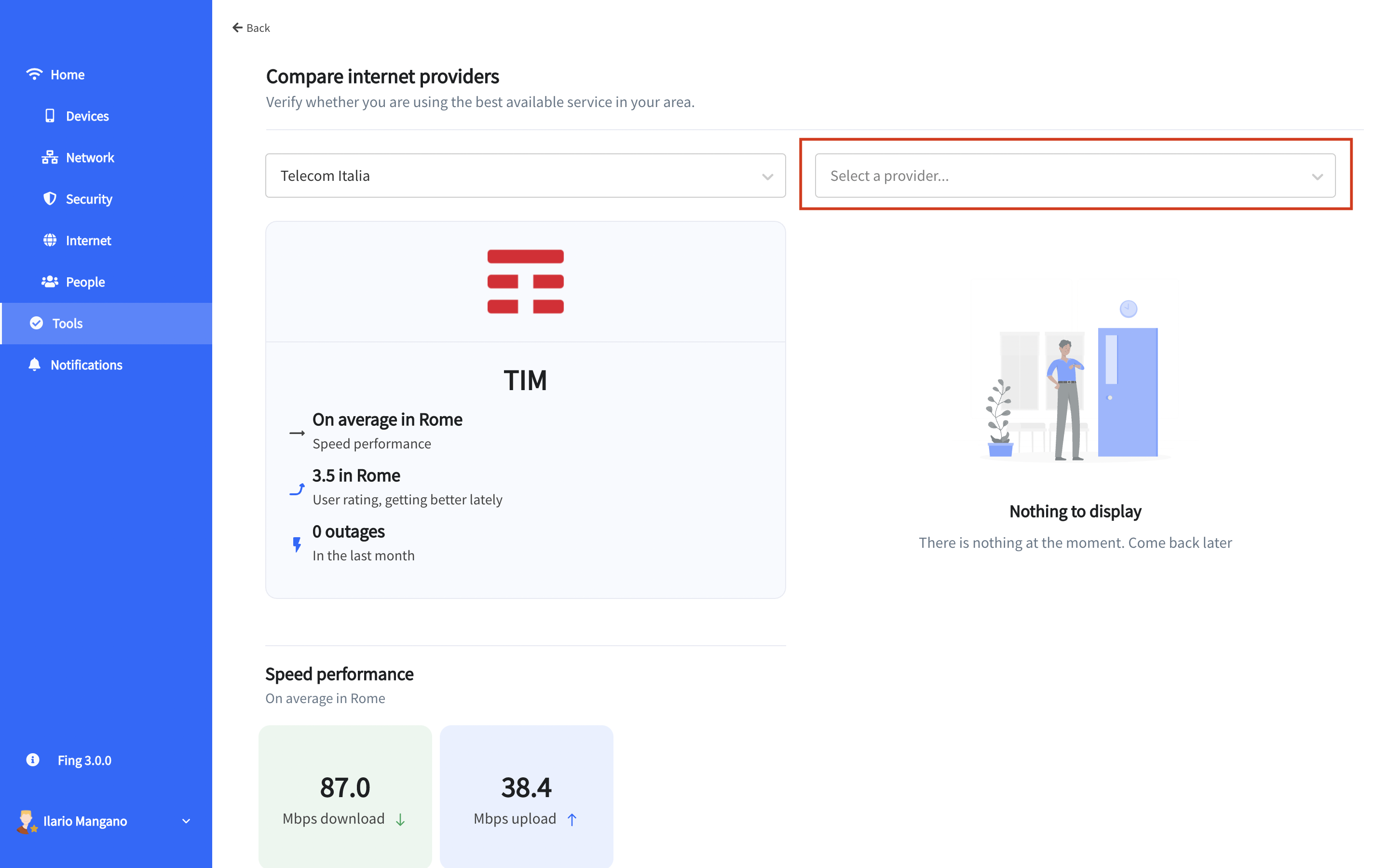 At first, your setup will have this layout: your current ISP at your left and, well, nothing at your right. But try clicking on the right dropdown and you'll see a list of the top ISPs available in your area. Your area is automatically detected from your public IP address using a Geo-location database.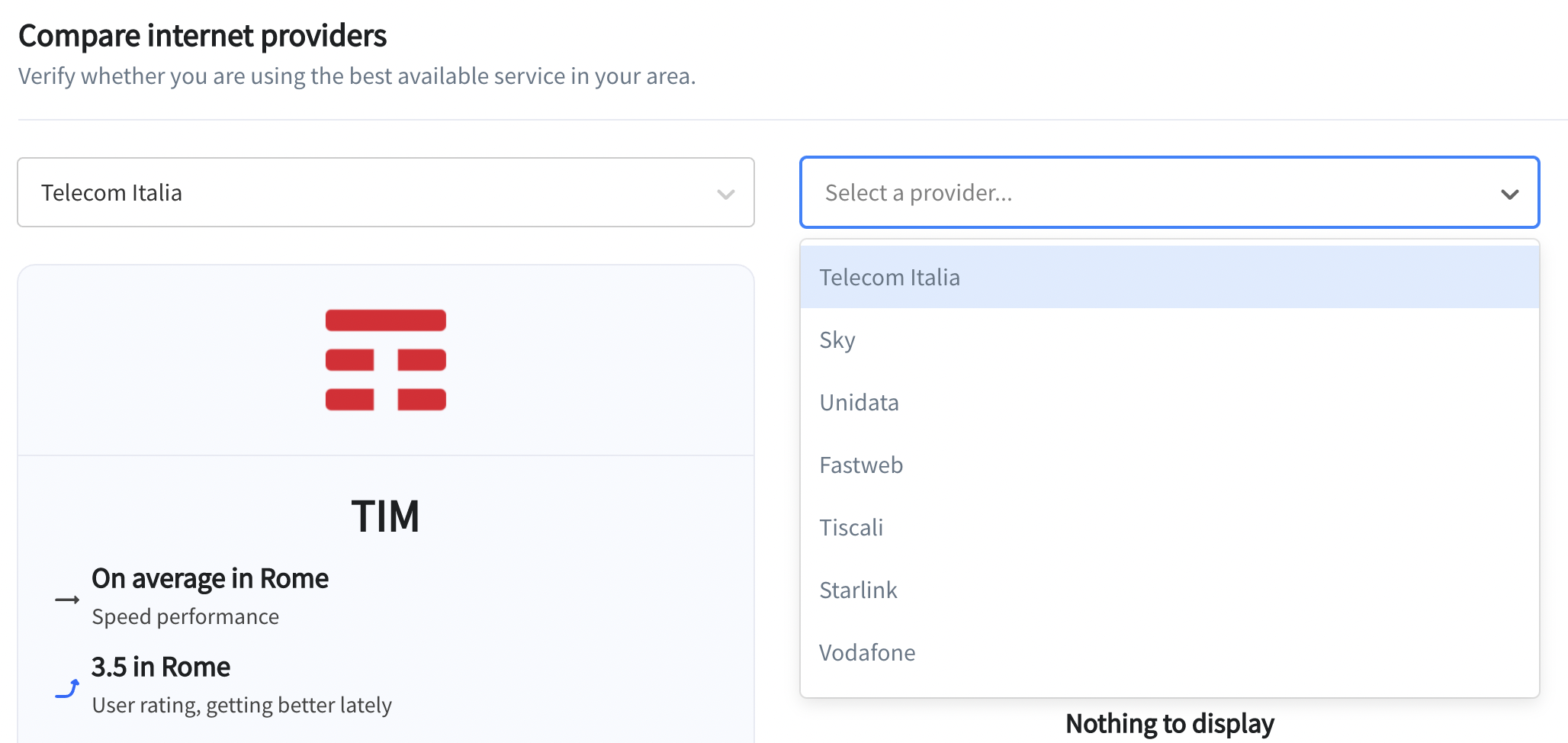 Choose any one of them and a side-by-side comparison appears.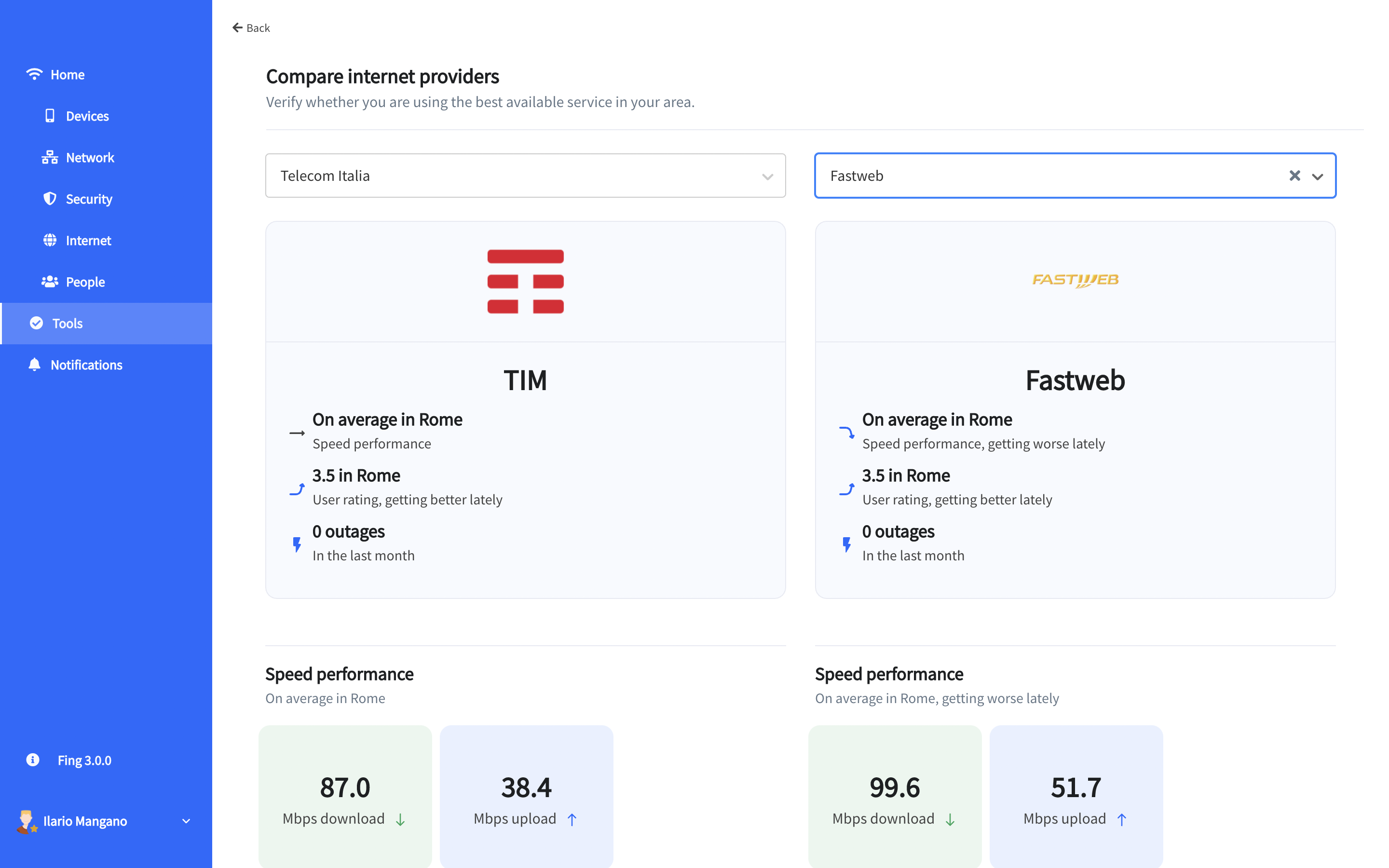 Note that you're not limited to compare only your current ISP with the others, just use the leftmost dropdown in the same way we've used the right one above and choose whatever provider you want.
Now, scroll down to see what insights the various sections can carry and start digging into the details.
The Sections
The details are grouped in up to six different sections, each one describing a different part of the services of the providers:
A Summary, where you can get a quick recap of the ISP performances, from speed, to user sentiment and its latest outages. Fing keeps track of performance, ratings and outages and calculates the trends over weeks.
The trend for performance and ratings are calculated by looking at the last week and comparing it with the results of the previous 3 weeks.
The Speed performance. The summary gave you a vague insight, but here you'll find the numbers
Then the User rating comes, hinting you how much people love (or hate) the providers on average, along with the distribution of the scores. Fing users can rate from the mobile App and Desktop App, and the results are aggregated by ISP and location to provide you a breakdown by region and ISP.
The Stability. Each ISP has a number of probes that are monitoring its performance daily. In this section a time-based chart will give you the percentage of the dedicated probes that got a service interruption, so lower is better. See Detect Outage for a deeper understanding of how Fing monitors networks.


The Outages themselves, if any, with the latest two directly reviewable here. An action getting you to the pre-filled Outage Detector Tool may appear, when the number of service interruptions is higher. Click on the outage card to see the nitty-gritty details
Finally, an About section, giving you an extract of their Wikipedia article and some useful links
Getting More
Download Fing Desktop here, for additional features and enhanced capabilities including Intruder Alerts, Security Checks, Timeline of Events & Unlimited tools.
Whether you are an IT expert or a technology enthusiast, Fing has the right solution for your needs. To find out more, please visit: Fing Premium Plan