Detect Outages - Desktop Tool
Let's relive the bad scenario: you're working hard or playing your favorite game relying on your faithful internet connection but - poof! - at some point it slows down, lags or even completely stop functioning. Now what? Is it affecting just me or are all my neighbors in the same boat? Or, maybe, could it be a wider service interruption, hitting hard badly the overall local infrastructure?
Enter Fing. Starting with version 3.0.0, Fing Desktop bundles with a brand new tool directly aimed to help you looking for service disruptions in your area: the Outage Detector.
Where
Get yourself into the Tools page by clicking the option with the same name on the sidebar. Inside the tools collection you should find the one titled Detect Outages. Choose it.

If you want to know more about what tools are supported and how they can improve your networking life, don't waste any more time and go to the Fing Desktop Tools Introduction page on this guide.
How
This is what the tool looks like at first: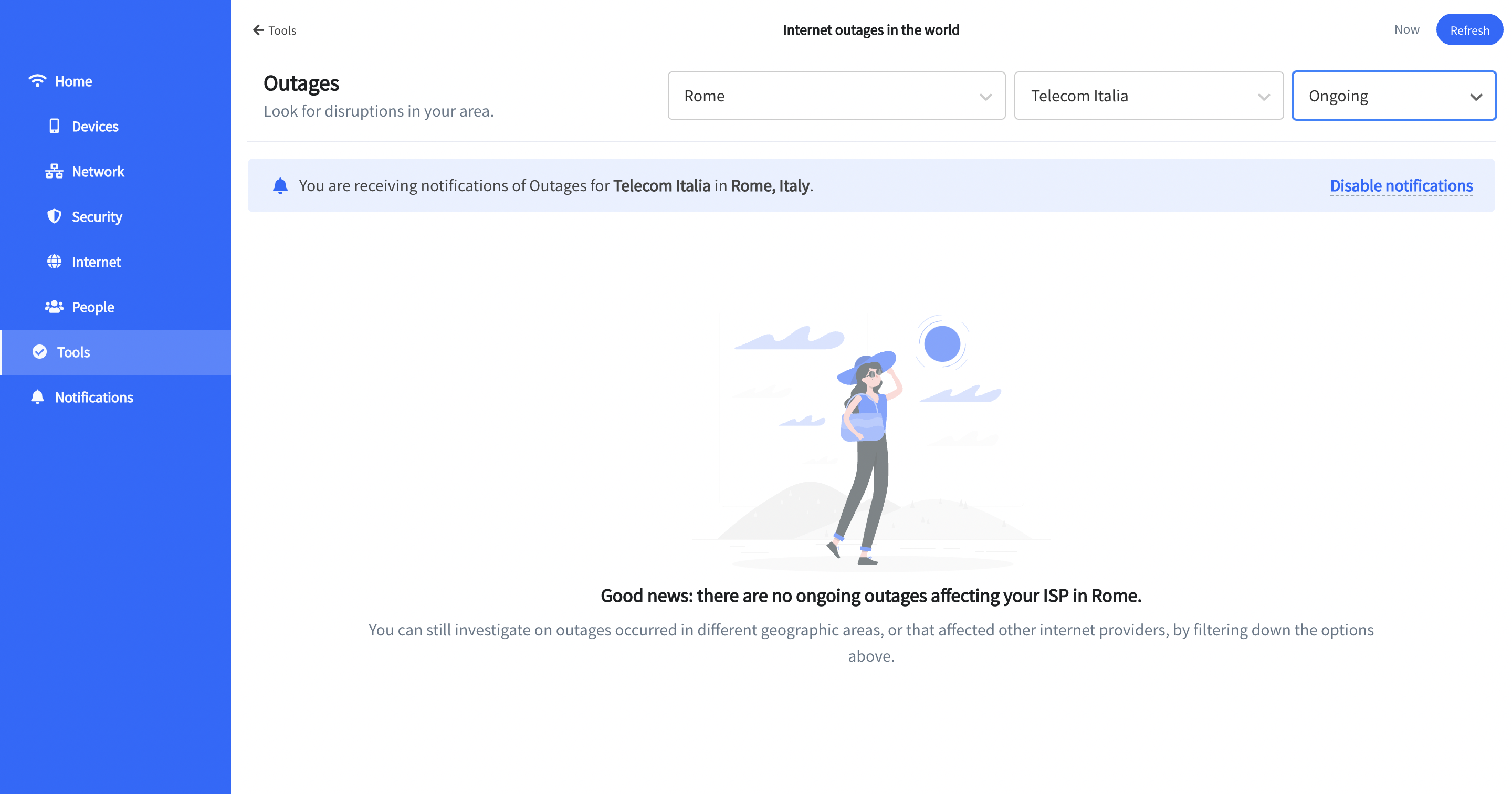 Your setup will probably look different. In particular, you should see your location and your current ISP pre-selected, as your area is automatically detected from your public IP address using a Geo-location database.
Also, if there are ongoing outages they should be immediately visible in the main part of the layout. Try change the status from Ongoing to Resolved on the rightmost dropdown and see if there have been interruptions in the recent past. It may look like that: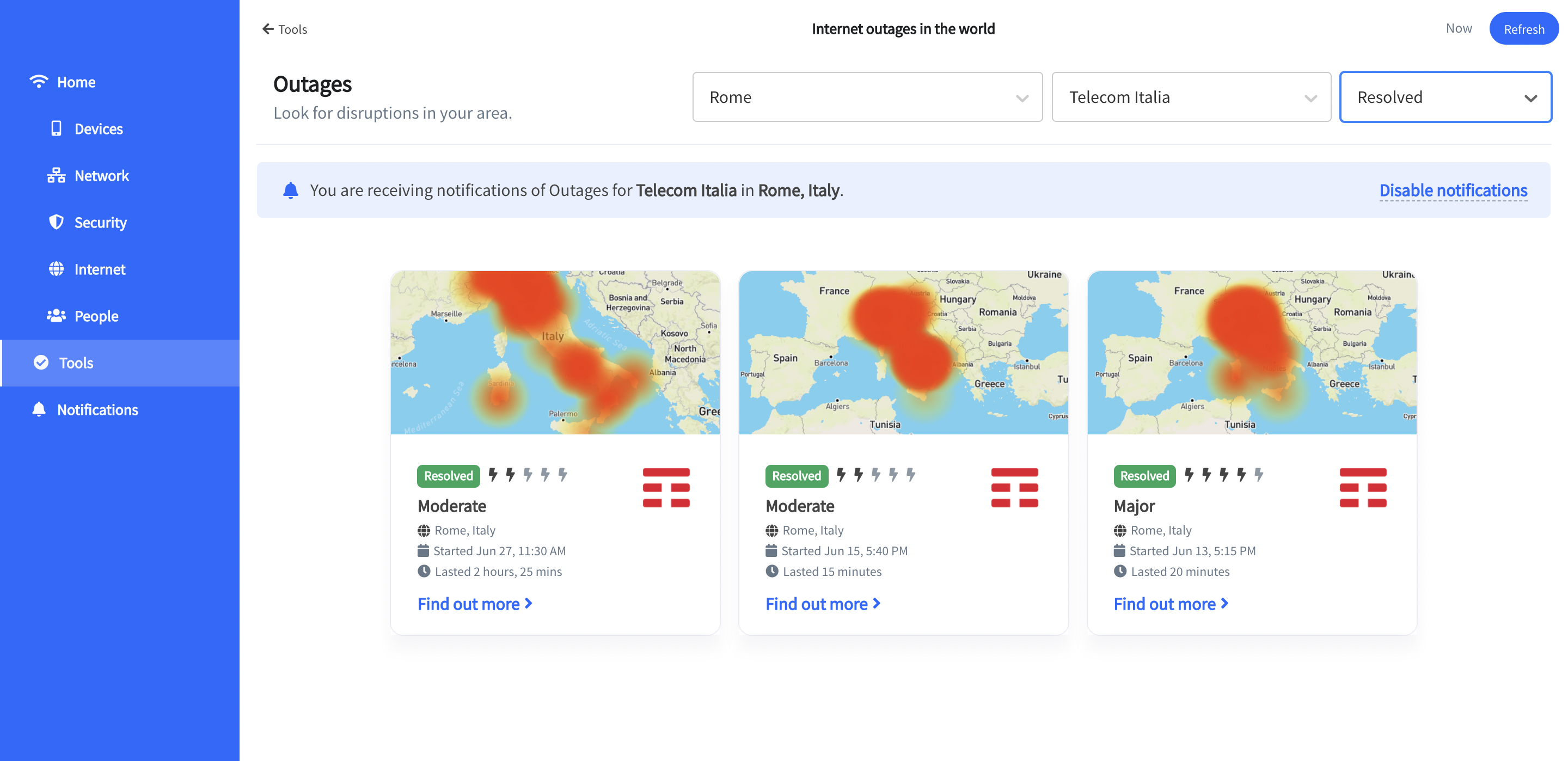 Play with the other filters to discover disruptions affecting other providers or locations near you.
The Filters
As you can see there are three different dropdown selections in the tool header that make possible to navigate through a fair number of configurations to help you investigate issues affecting your connection, or just to satisfy your curiosity:
The location, the leftmost one. It defaults to your current location and, whenever possible, allows you to choose between your local or wider area - i.e. the city you're in or the whole region or country - or the major cities of your country.
The provider, at the center. It defaults to your current provider, but the rest of the list is built by taking the top providers of the selected location, so they effectively will change based on that.
Finally, the status, by which you can filter between ongoing or resolved outages.
Also, the eagle-eyed reader should have seen the Refresh button in the upper right corner of the window. This does exactly what it says, asking again for the same query based on the selected filters, allowing you to monitor the evolution of the situation in real-time. To help with that, near the Refresh button you'll find a timer that informs you when the last query with those filters has been executed.
The Outage Details
When outages are listed, a good deal of information is present to better assess the situation. Some are directly summarized in the cards in a compacted way, but by clicking them a new page will appear with the full details.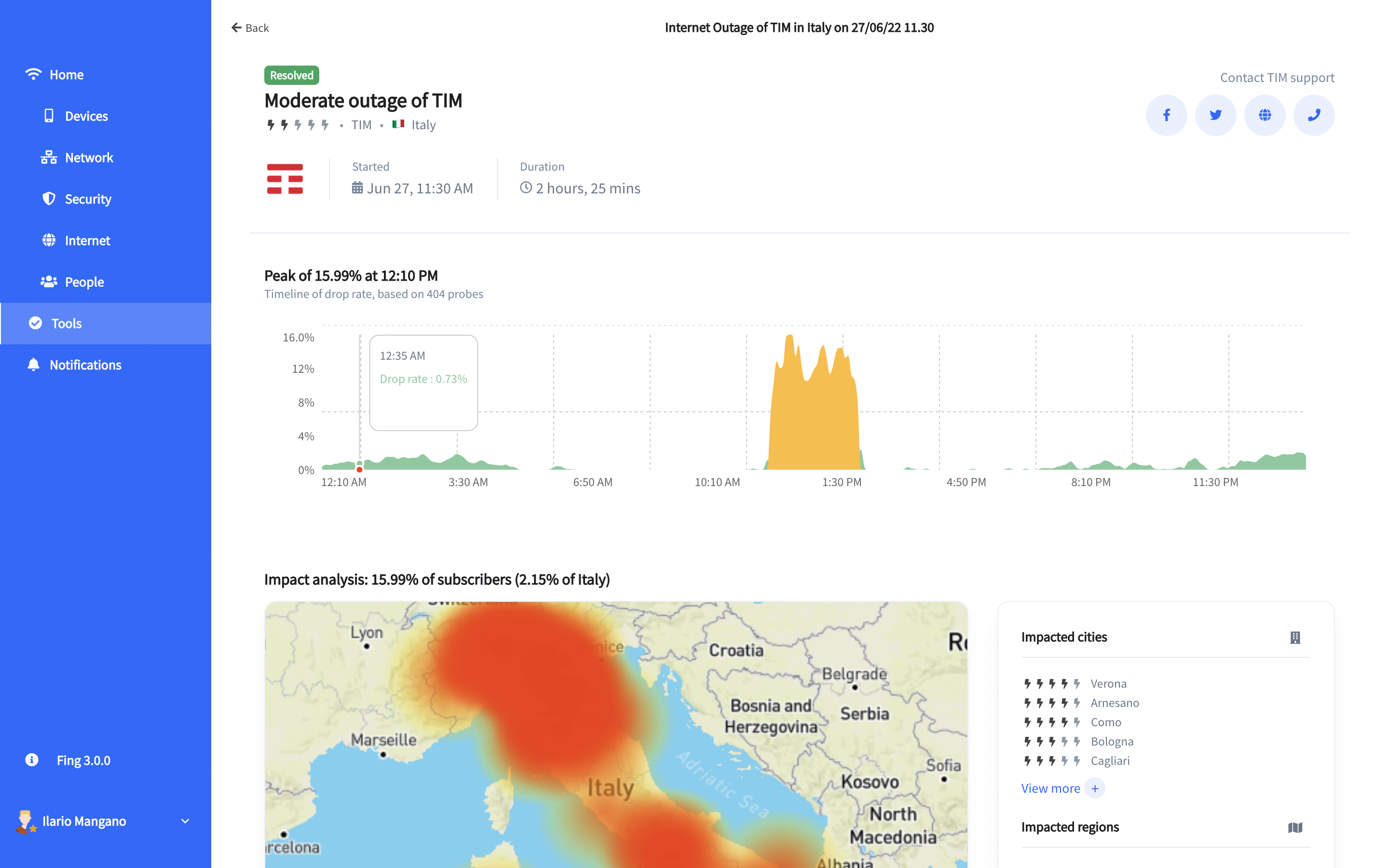 We'll follow with a brief breakdown of the page.
The Header

It is composed by:
A badge, carrying the status of the outage. One of three statuses can be seen: ongoing if it's still disrupted, today if it's been resolved not long time ago, or resolved if the interruption has been overcame.
A description of the severity of the outage. It can be minor, moderate, considerable, major or critical, from the less severe to the most.
Time information. It includes the starting time of the outage and how much it has lasted, or is still lasting.
ISP information and useful links.
Drop Rate Chart

A chart detailing how many probes experienced issues, in percentage, over time. As you can see, the peaks represent the most severe disruptions related to this ISP in the chosen location.
The Heatmap
In many cases outages don't occur isolated, but are a part of a more vast set of interruptions affecting one or more providers in a region. The heatmap helps you assess such conditions.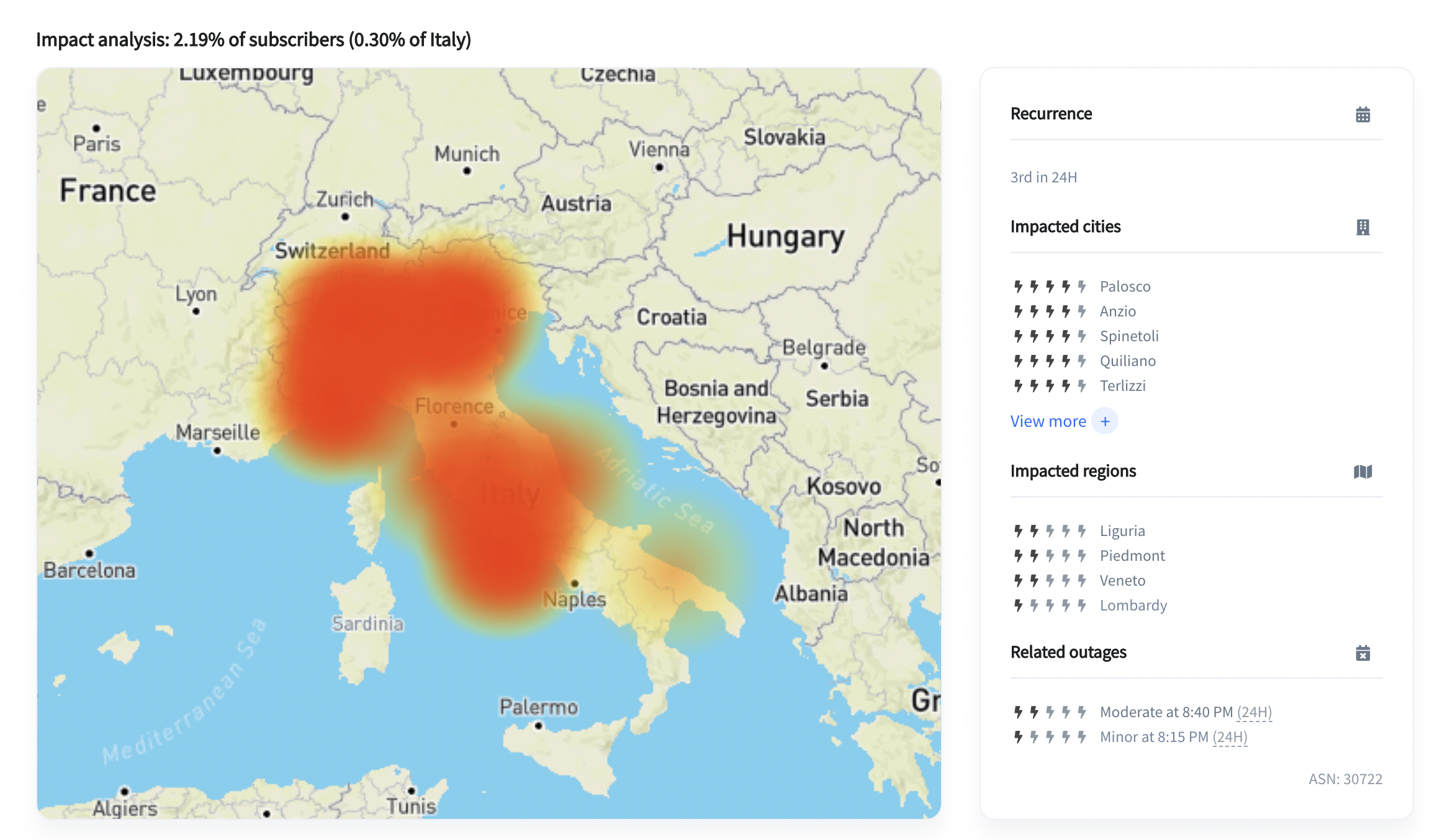 The map on the left is a visualization of the disruption event, while on the right side there is a list of impacted location and their severity. Also the recurrence - how many events we had in a short time - is shown, as well as a set of related outages. These are particularly interesting as you can navigate inside them and explore the issues deeper.
Outage Notifications
Returning to the tool main page, there is one last feature that we haven't discussed yet. When you scan your first networks Fing tries to determine what network you are most interested in and elects it as the one for which you can receive notifications in case of disruptions.
For notifications here, we're talking about proper notifications in the Fing Desktop app, an informative email sent to your account address and, for mobile users, a push notification sent to your mobile device.
The Outage Detector tool comes with a dedicated section for notification management, that you can find directly below the filters:

The banner will tell you if notifications are active and to what configuration of ISP in location. By changing the filters above to values other than the ones already monitored, you can change what ISP in what location you're interested in being alerted for. If you're not interested at all, you can always deactivate the feature by simply clicking the Disable notifications option on the right.
A disabled or not predetermined state will look like this:

By clicking the option in the right, this time, you'll be able to activate the service again, or for the first time. As before, use the filters to change the selections according to your needs.
How automatic outage detection works and what makes it different to other solutions.
Now that we're done with the tool usage part, for the interested readers we'll follow with a brief digression on how the technology of outage detection by Fing works. Though not strictly required to use the tool, understanding some of the internals could be interesting and may enhance your knowledge of the app, its features and how it can help you solving your issues.
Fing leverages a fleet of probing devices distributed worldwide, periodically sending heartbeats: disconnections are processed by real-time streaming analytics with machine learning based trending and outlier detection, i.e. self-learning thresholds to automatically detect and report outages at the ISP level or at carrier/power level
Automatic! The outage detection and geographical impact analysis is AI based, it's automatic and works in real-time, with no need of manual report from Fing users.
Core features
Drop rate assessment and automatic outage detection come with:
Drop driven: as opposed to existing solutions that do leverage manual user report and advice, Fing outage detection works automatically and in real-time.
Outage duration: being based on distributed probes, which automatically reconnect as soon as the outage is over, we are able to determine the moment when it's over.
Impacted areas: most impacted cities and regions are shown in real-time, thanks to an AI algorithm assessing the top deviations.
Severity: outage severity is assessed in real-time, analysing drop rates and top geographical deviations.
Real-time: the engine runs on highly scalable cutting-edge real-time streaming analytics, Apache Flink® - Stateful Computations over Data Streams.
Real-time: the engine runs on highly scalable cutting-edge real-time streaming analytics, Apache Flink® - Stateful Computations over Data Streams.
Getting More
Download Fing Desktop Premium here with additional features and enhanced capabilities including Intruder Alerts, Security Checks, Timeline of Events & Unlimited.
Whether you are an IT expert or a technology enthusiast, Fing has the right solution for your needs. To find out more, please visit: Fing Premium Plan
Still experiencing issues?
Please include all details related to your issue and write to us from your registered email address at support@fing.com