Internet Speed Test
The Internet Speed Test is designed to give you visibility over the quality of the Internet your Internet Service Provider (ISP) is delivering.
Where to Find the Internet Speed Test
To access the Internet Speed test, from the Fingbox dashboard, go to the Internet tab: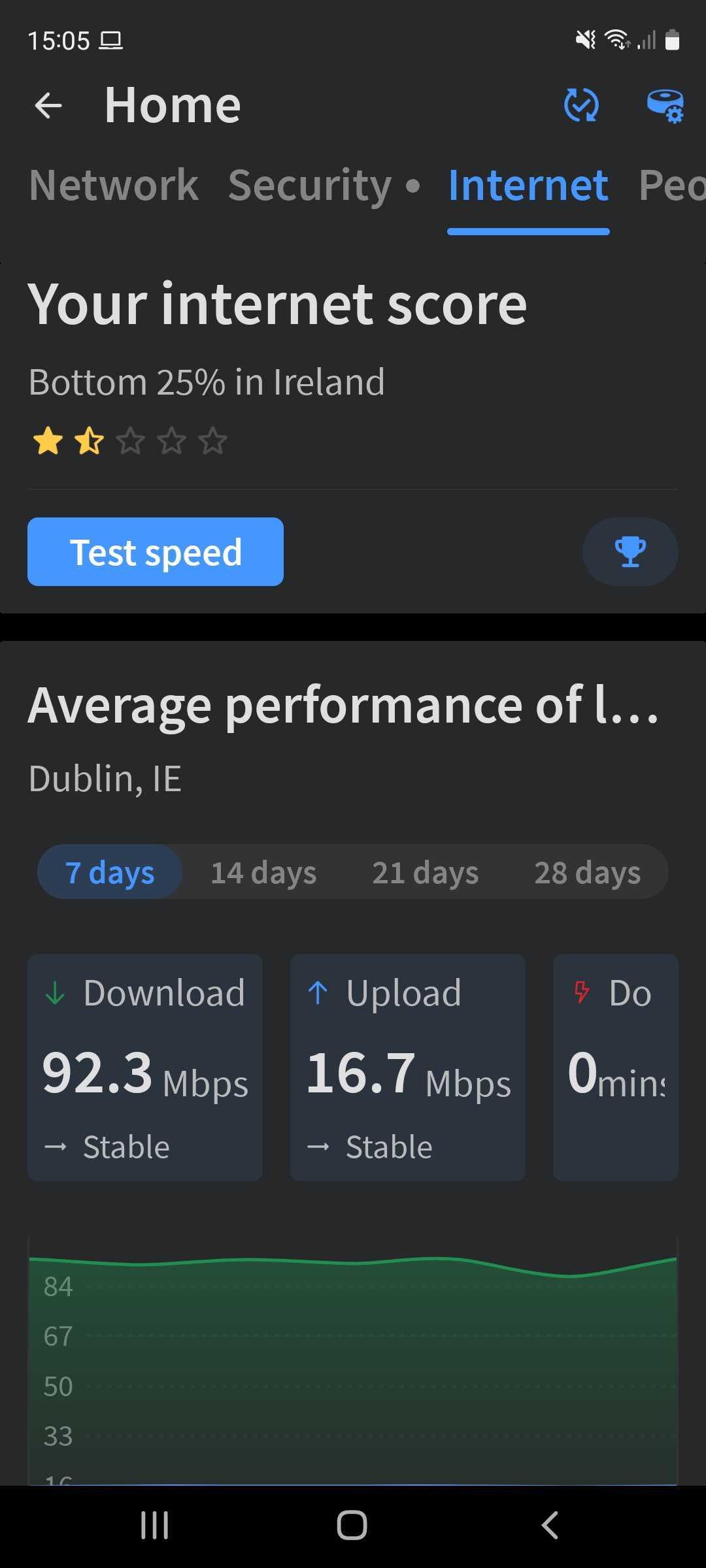 What are the Features of the Internet Speed Test?
Download Speed: how fast your network is downloading content from the internet
Upload Speed: how fast or slow your network is uploading to the internet
Latency: the delay before the transfer of data begins
Recent: A historical overview of your download and upload speeds
ISP Scoreboard: a leaderboard showing where your ISP ranks against the other ISPs in your city or country
Compare Providers: compare your ISP provider with other ISP providers
Scheduled: schedule automatic speed tests up to 6 times a day to track your ISP speed over time
Performance Graph: a graph showing how your ISP speed has been performing over time
Report: select to receive an email report of your overall Internet performance for the current or last month
How to Run an Internet Speed Test
Click on 'Test speed now' and then choose 'Test speed now' (see screenshot above)
Fingbox will then start running the test to give you your current latency, upload and download speeds
How to Schedule Internet Speed Tests
Automated Internet Speed tests are set as a default for all Fingbox users, so if you wish to remove them or change them schedule you will need to do the following:
On the Internet tab, click on 'Schedule'
Select the daily hours, either AM and/or PM, that you would an automatic speed test to run. Deselect all to remove the automated speed tests.
The speed test will then take place within the hour you have selected. The reason you can not select exact times to run a speed test is because Fingbox needs to randomize the execution during that hour in order to make sure the M-Lab servers are not overloaded by too many concurrent requests.
You can run up to 6 automatic tests a day
Once you have selected the hours click Ok
The Performance Graph in the Internet Speed Dashboard will show you the results of your scheduled Internet Speed tests over the past week
It will also show you your average Internet Speed for the past week
How to Check Where My ISP Ranks
Again, on the Internet tab, click on the Trophy button, just to the ride of 'Test Speed.'
Here you will see a list of how your own network, and your ISP's average, compares to others in your Country
Order: you can order the results by performance, by user rating or distribution. Initially the ISP's will be ordered by 'performance'. To change, simply click on 'by performance' to see other ordering options.
You can also click on any of the ISPs to see further statistics about that provider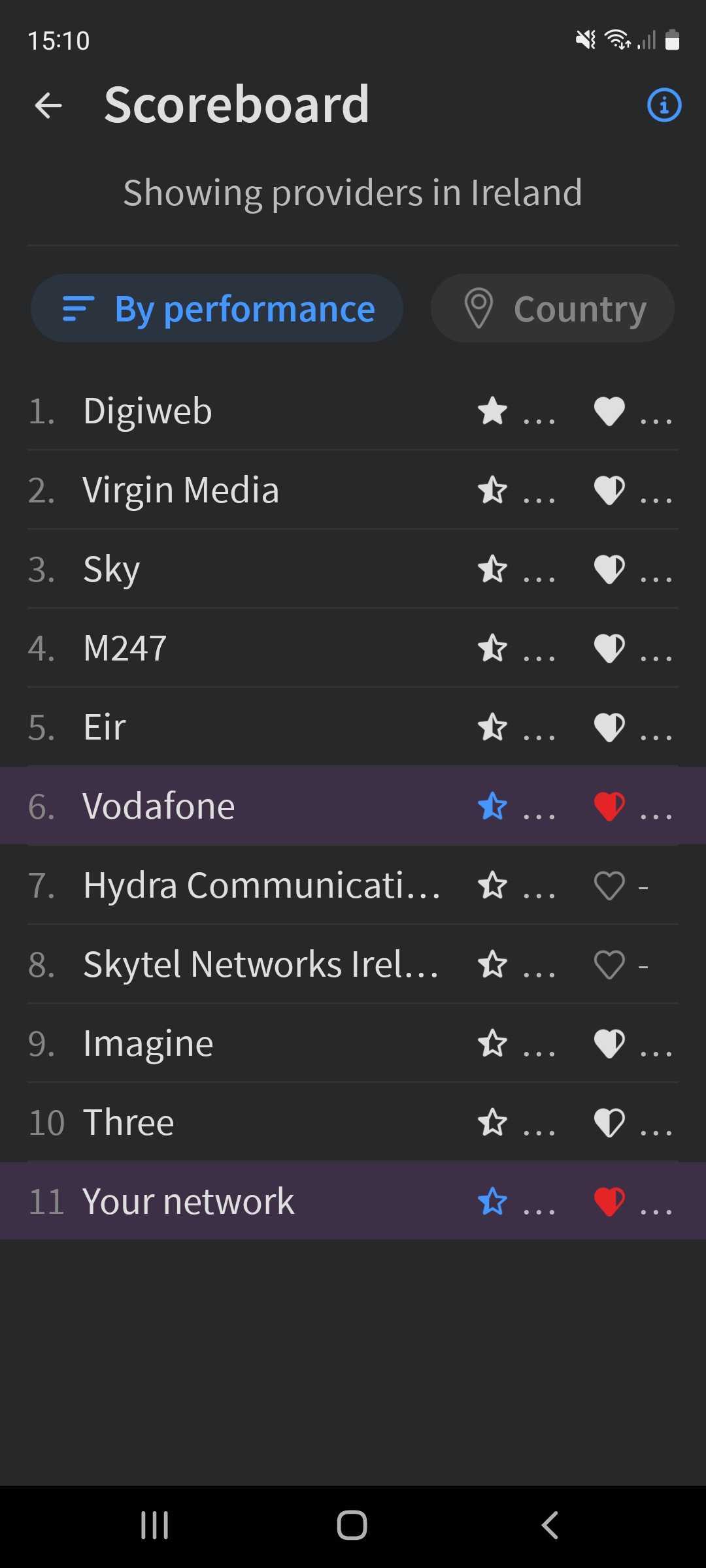 How to Export Your Internet Speed Test Results from Fingbox
The email reports allows you to export all the data on your Internet performance for the current or last month. This allows you to have something in hand if you would like to report a problem to your ISP.
To receive an email report click on 'Report' emoticon below the performance graph. You can choose to get a report for this month or last month: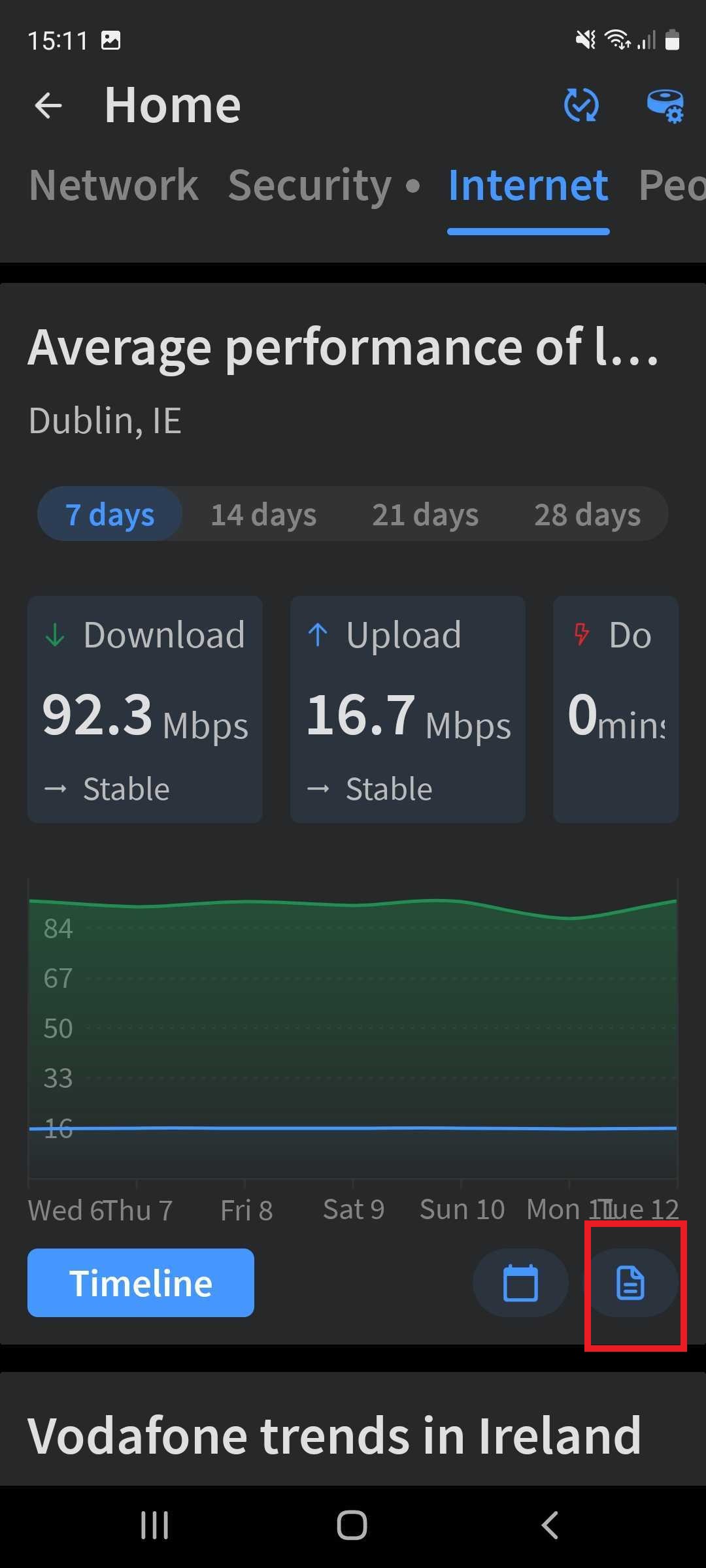 You will then receive a breakdown of how your Internet performed over the last month, including daily, weekly and average download, upload, latency and Internet outage results.
What is the Science Behind the Fingbox Internet Speed Test?
The Internet Speed Test aims at giving you a measure of a realistic speed achievable with real Internet services, not a formal speed sustainable just within the "last mile".
For example, Fast.com is provided by Netflix to measure the real speed to the closest Netflix video servers. Speedtest.com is a commercial service getting its revenues from selling the data to service providers and, by default, it gives you the speed to a server within your service provider network, not the speed of a service on the global Internet.
The Fingbox Internet Speed Test is provided by our partner, Measurement Lab. M-Lab is one of the most trusted independent labs for network measurement, backed by academic institutions and used by Google and other large Internet companies.
Given the different location of test servers and their unique methodology, M-Lab test results may differ from other commercial services. M-Lab servers are located in the most important exchange nodes of the global Internet, you can see the test locations here.
The test takes about 30 seconds. It figures out your internet speed by measuring how much data can move through your connection in that time, in download and in upload.
The test uses different amounts of data depending on how fast your connection is and where you do the test. For example, a typical test in the U.S. can use up to 20 MB of data.
Why your test results could vary and could be different from other speed tests
Your test results can change in a short time, and they could differ from other internet speed test results. Results can vary for many reasons, like changes in network conditions, changes in where testing servers are located.
Learn more on M-Lab FAQ about why speed test results can differ from others
Important: Fingbox can operate up to 1 Gigabit speed, however the link speed could be less. Please make sure that you have connected Fingbox to a Gigabit router/switch port and that you are using the provided LAN cable. You can check the current ethernet speed rate of your Fingbox in settings panel of mobile apps.
What is the Science Behind the ISP ratings?
The Fing analytics provide ISP scoreboards by automatically ranking Fing and Fingbox speed and quality measurements.
To compute speed scores, we consider all providers with more than one source for the period. For each provider we compute min, max, average and standard deviation metrics, in order to use them in a Z-score algorithm, which assumes a population following normal distribution.
Country and city populations of providers are then aggregated, with each provider weighted by the contribution of different test sources.
We then determine the score of each provider and of your network as the estimated percentiles combined for download and upload, where download makes 80% and upload the remaining 20%, in order to place the most attention to download speeds